Grilling Gifts for Men mean less cooking for you and DELICIOUS food for everyone! If you have a guy in your life who loves to BBQ, grilling gifts are a great idea for any holiday. Men love to grill…although probably even more than that they love to EAT the grilled food. I don't think you can go too far wrong with grilling gifts because when your man is cooking it means you don't have to! Buying BBQ gifts for them means YOU get a gift too. I made this Ultimate Grilling Gift Guide with OVER 40 grilling gift ideas for people who love to barbecue!
What do you buy a griller?
The beauty of these grilling gifts is you can do one or two gifts, several gifts, or even make a BBQ gift basket if you'd like to do that! Without further ado…here are grilling gifts that are sure to be a hit for birthday gifts, anniversary gifts, Father's Day Gifts, Christmas Gifts or just because gifts!
This post contains affiliate links for your shopping convenience (which means if you make a purchase after clicking a link I will earn a small commission but it won't cost you anything)! Get more information in my full disclosure.

Great Grilling Gifts: BBQ Basics
If your guy is new to grilling (or just needs an update of his BBQ tools) here are some basics that every guy would love to receive.
BBQ Apron It may seem funny to see a guy in an apron but they will seriously enjoy having quick access to their grilling tools
BBQ Tool Set This toolset has so many different things that you need for your best BBQing.
Wireless Meat Thermometer This is a must-have (especially for smoking meats). Put the sensor in the meat and then you can take the thermometer with you. It will alarm you when certain temperatures have been reached. We love ours!

Meat Cleaver Knife– A great butcher knife can make a huge difference when preparing meat for the grill or smoker. I bought this one for my husband and it has been great! Chops up meat really well!
Chef Knife A smaller sized knife, that is high quality for chopping all sorts of foods.
BBQ Gloves– These gloves allow you to handle the meat and serving dishes without getting burnt. This particular set of gloves is sized larger for men.
Beginner Propane Grill– This is a great starter grill if you don't already have one.
Beginner Smoker– When we first talked about trying a smoker it was a little intimidating, and this was what a friend recommended. We loved this smoker and gave it to our brother-in-law when we upgraded to a bigger sized smoker.
Mid-level Traeger Smoker– This is a mid-level smoker for people looking to do bigger cuts of meat or more types of meat at one time.

Extra Accessories for Grilling and Barbecueing
Reusable Grill Mat– These aren't a necessity but will keep your grill looking new and clean (and they are dishwasher safe, woot!)'Now let's get a little more specific with some meat specific grill gift ideas.
Grill Basket– If you love grilled vegetables but don't have the time to skewer them, this is a great option with amazing reviews.
BBQ Claws– These are great for moving large pieces of meat from grills and/or shredding it
Grilling Recipe Books
These are great gift ideas for the griller who already has everything!
Keto Rubs and Sauces Recipe book– If your guy is doing a Keto diet here is a great companion book for barbecuing
Wood Pellet Grill and Smoker Book

Grilling Gifts for guys who love hamburgers
The Ultimate Burger This cookbook has some great burger recipes and DIY condiment recipes.
Burger Press- Have you used a burger press before? This is a high quality one that will make uniform burgers (that cook evenly.)
Stuffed Burger Press -This is such a cool idea! Add yummy things to the INSIDE of your burger! It comes with recipe ideas also.
Specialty Ketchup Trio– If your guy loves ketchup give him these great options. The set included Srihacha, Jalepeno and Hot and Spicy.
Hamburger Basket I think these baskets would be a fun way to serve burgers.
French Fry Serving basket– These are so fun to serve fries in. Here is an option that has eight (a great deal)
DIY Hamburger Seasoning This looks delicious and would be a fun DIY grill gift for dad or grandpa.


Grilling Gifts for guys who love ribs
Smoker Box for Gas or Charcoal BBQ – This is an inexpensive way to turn a normal barbecue into a smoker.
Rib Rack- This rack makes it easier to cook the ribs evenly and add the sauce.

Rib Rub Trio (Carolina, Memphis and New Orleans Style Rib Rubs)
Western Rib Rub Trio (California, Texas and Kansas City Style Rib Rubs)
Flavorize Cookbook-This highly rated book includes great marinades, injections, brines, rubs and glazes.
Rotating Rib Rack– If your guy likes to host big parties as the BBQ chef, he will love being able to do several racks of ribs on this rotisserie style rib rack.

Grilling Gift Ideas for guys who love Kebabs
Kebab Maker– Now this is kind of a funny name for what this is. When I think of kebabs I think pieces of meat alternating with veggies. A more accurate name for this gadget might be "hamburger-on-a-stick-maker." Haha! But it actually looks really cool! Combine ground meats with herbs and small veggies then stick the kebab stick in the middle and squeeze the meat onto it. I think it would work great for Keto eaters, you could even wrap the meat with bacon!
Kebab Sticks– These are high-quality sticks which makes kebab-ing much easier.
Kebab Cookbook– this has a big variety of kebabs including seafood and vegan options.

Grilling Gifts for guys who love BBQ Chicken
Chicken Roaster Rack – If you've ever heard of beer can chicken, this is the fancy way to make it. You don't even have to use alcohol, it also works with your favorite soda! Pour the soda in the container and position a whole chicken on top. This keeps the chicken moist and makes for a delicious bird!
Chicken Wing/Leg Roasting pan – This is actually listed as a jalapeno roasting pan for the barbecue, but it also works for chicken legs or wings (and makes it easier to baste).
Marinade Injector– I've never actually used one of these but this one has amazing reviews.
Marinade Packets – This is an assortment of marinade packets and all you need to do is add juice.
Grilling Gift Subscription Box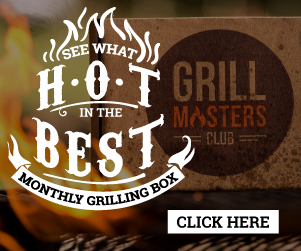 If you aren't sure what would be the best gift for the grill-loving dad in your life, consider giving a Grill Masters Club Subscription box! You can gift a 1, 3, 6 or 12-month subscription. Each box contains "contains 4-5 products including rubs, sauces, marinades, recipes, and other mystery items." Use one of my free gift tags to tell dad he's going to get a monthly BBQ box! Wouldn't it be so much fun for everyone if dad gets new grilling products to try every month?
Don't forget to download these great (and free!) gift tags that go along with your Great Grill Gifts. Did you see something that will work for your guy? Is your mouth watering like mine is?
If you are looking for some other gift ideas, check out 20 Special Gift Ideas for Amazing Dads or Pancake Art Gift Basket for Dad
Happy Gifting!